KERIDOWN    –    BREEDER OF THE UK's TOP WHEATEN STUD DOG 2009, 2010, 2011, 2012, 2013, 2014 and 2015.

The Soft Coated Wheaten Terrier has increased numerically in the UK over the last few decades – from under 50 registered in 1977 to just over 400 registered in 2012 – but it is still  a relatively rare breed.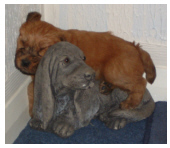 Most people can expect to wait a short time for a puppy, hopefully only a few months, but the wait is worth it as once you have lived with a wheaten you will never want to be without.
Buying a wheaten puppy is a serious decision which is not always risk free:
Like all pedigree dogs a wheaten terrier is only a wheaten if registered with The Kennel Club if it is not KC registered then it is not a wheaten so check before you buy.

The breeder will normally want to meet you to ascertain your suitability prior to any sale being made and you should expect to meet the mother of the puppies and occasionally the father although it is often the case that the services of a stud dog will have been used and he resides elsewhere and is not owned by the breeder.

You may see adverts in local or national newspapers offering wheaten puppies for sale – more often than not these puppies will not be KC registered and are therefore not pedigree wheaten terriers at all – sadly we have heard too many stories of such puppies being sickly and of suspect temperaments.

Even when KC registered and although all available puppies are sold for approx the same price they are not all of the same quality. Most puppies are bought and sold first and foremost as pets where the main considerations should be health, temperament and appearance. These three traits are the criteria on which dogs are judged in the showring. It is therefore logical that top dogs will produce the best puppies. Most breeders will have their own 'kennel name or affix' so ask what it is and google it and see what is out there – our kennel name is keridown.
At Keridown we believe that wheatens should be born, raised and live their lives as part of the family in the home not in outbuildings or the dog room 'garage'. We sleep next to our puppies for at least the first three weeks to ensure that each has the best possible start in life, then, for the rest of their stay with us they reside in the lounge or kitchen where they are rarely without human interaction and supervision thus gaining the maximum socialization in the home environment. They just love listening to planet rock on dab radio.